EASYGATE INFORMATION
Easy Gates and panels were originally introduced primarily as a do it yourself product (DIY) to service the hundreds of thousands of regional customers with no access to our fabrication facilities. The emphasis was a high quality product that could rival a custom made gate with easy assembly and a reasonable price. 
Well like all good intentions this one has found its way from DIY into the professional market and beyond. The fact that a trade installer can order a gate to size, easy transport to site and assemble in a couple of hours all for a much lower cost than custom made has increased the product range to include many standard designs and now custom Easy Gate.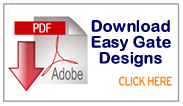 What are Easy Gates?
Easy Gates are designed as an economical way to buy gates and fence panels for your property. Each gate or panel is individually cut to your sizes and provided with the necessary hardware and fasteners to assemble. For example an insert fence panel will typically be supplied with side channels, slats and fastener covers all cut to size as well as fixings for the channels and the slats. If you can use a drill and a pop rivet gun you are on your way!
If you were to order a sliding driveway gate kit you would receive all of your main framework, corner braces, infill sections and fastener covers cut to size and ready to assemble along with your fasteners. In addition if you required hardware and or automation kit you would receive things like track, wheels, guide rollers, motor, remote controls etc.


What are Easy Gate kits made from?
Aluminium. All gates, fence panels and infill are made from durable aluminium in powder coat finish. Section weights vary dependent on their role. For example the main gate frame is our heaviest section and the insert slats are much lighter. EasyGates are not lightweight throw around models. Most of our gates are automated so strength and weight were critical in design.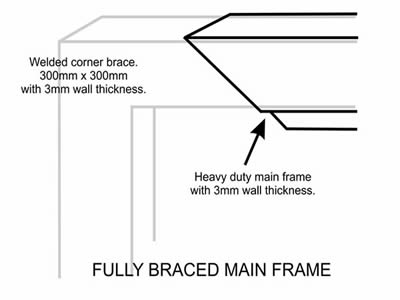 Is there a choice of design and colour?
Open our 
design brochure
 and you will see just how many designs are available but that is not all as we are quite happy to build your gate to your design. We call it "custom Easy Gate".
Colors? One of the main advantages of Easy Gate is the ease of using different colors. For example you may want a different main frame color to the infill color—with Easy Gate this is no problem
Three different build methods.
We classify Easy Gate as either "insert fence panels", "standard framed fence panels" or "driveway gates".
Insert Fence Panels - Used when being installed between brick walls, piers or posts.
Standard Panels - Have a full surrounding frame adding strength and style as more designs become available. Also used in pedestrian gates.
Driveway Gates - Maximum strength and full design range designed for swing and sliding gates..
Are there size restrictions?
In any of the three build methods you will find notes on size restrictions. Common sense and good design will often dictate size but also material maximum sizes can also play a part. Check each build method for size restrictions and further notes.
Do you supply posts?
We have posts available in five colours and two sizes. All posts are cut to 2650 long which allows for concrete in installation or they can be trimmed down for wall fixing. We have 65x65 which is generally used for fencing and sliding gates and also 100x100 posts for swing gates that are to automated.
Do I have to assemble and install myself?
That is entirely up to you. Although Easy Gate is a DIY product we all know that not everyone has the skills or inclination to take the job on. Plenty of choices thankfully depending on where you live. In and around our branches and agents they will happily quote assembly and install and if you live outside these service areas enlist the services of a local handyman or tradesman.
Do you have a DIY guide on measuring and installation?
There is a link in the information tab of each page to DIY or
click here
. We also have measuring, assembly and installation sheets 
here
.
How do I get a quote?
Simply click on any of the links at the top of the page and it will open the quote form for you. Enter the information required and hit submit to send the enquiry. Our team will get back to you with your quote and any further assistance you require.