KEYPADS & PUSHBUTTONS
HARDWIRE KEYPAD
WMK2-EM
Card type: 125KHz
Strong Zinc Alloy Electroplated anti-vandal case
2000 uses, supports access by card, PIN, card + PIN
Weatherproof, conforms to IP67.Works well in most of severe conditions
Wiegand 26-37 bits input & output
One relay operation, pulse mode, toggle mode
Digital backlight keypad design
Anti-duress and Anti-passback for single door

KEYPADHWIRE
- $151.00
MANUAL DOWNLOAD
SHORT PROGRAMMING VIDEO
WIRELESS KEYPAD
WLPK2-EM is a wireless access control keypad. It has a hard plastic case, reads 125KHz ID card, adopting 433MHz wireless communication technology and TEA+ rolling code encryption algorithm. And it can be connected with door contact, external alarm, external exit button, external door bell.
WLPK2-EM consists of three parts:
a) Wireless Access Control Keypad
b) Wireless Controller
Keypad requires three AAA batteries (not included)
KEYPADWLESS
- $165.00
MANUAL DOWNLOAD
SHORT PROGRAMMING VIDEO
HARDWIRE KEYSWITCH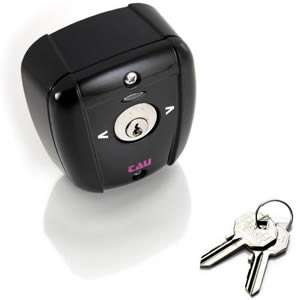 Robust hard wired key switch with spring loaded return for momentary operation. Simple to install.
KEYSWITCH
- $108.00
MANUAL DOWNLOAD
ASA WIRELESS KEYPAD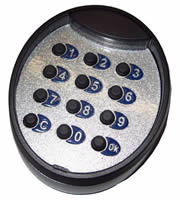 The P6 is a wireless keypad that is powered by battery and is suitable for all ASA receivers on board and the RSK4 stand alone receiver.
KEYPADP6 - $146.00
MANUAL DOWNLOAD
BENINCA WIRELESS KEYPAD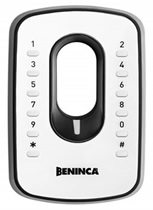 Wireless digital key pad to be used together with Beninca receivers - batteries included. Vandal-proof digital keypad with aluminium casing, polished glass- effect front panel and chrome plated buttons with LED back- lighting. acoustic feedback when the buttons are pressed and the code entered. The red or green central LED and the buzzer, with a repeated or long tone, indicate whether the code has been entered correctly or not. An access password can be set to protect the system from unauthorised persons changing the settings. The keypad is quick and easy to install. Outdoor range 100m.
BENINCAKEYPAD
- $401.00
MANUAL DOWNLOAD
SHERLO WIRELESS KEYPAD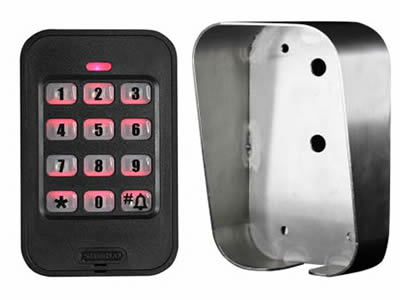 The Sherlo Wireless Keypad is designed for Secure access control of buildings, properties, gate/garage entrances, internal doors, striker locks and even arming/disarming alarm panels. The unit can be programmed with up to 9 RF Channels to control different receivers. You can very easily program the keypad on a PC in Notepad so that you don't have to waste time manually programming the keypad. This can then be very easily & reliably saved onto the Keypad using a microSD card. The keypad is battery powered, but has a 12V DC wired input connector.
Wireless Code hopping
1000 unique Pin code from 1-10 digit
Backing up the unit with a microSD card
Wrong code lock out function
Holiday mode
9 Channel RF outputs
1 Door bell RF output
Waterproof housing
Receiver - SHERLORX4500
SHERLOKEYPAD
- $423.00
SHERLOSHIELD
- $103.00
MANUAL DOWNLOAD
TAU WIRELESS KEYPAD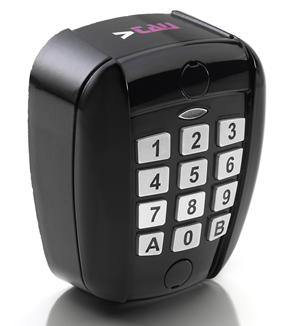 The TAU wireless keypad is a very smart and robust unit suitable for outdoor installations. The keypad is capable of four different pin codes allowing multiple users. The TAU wireless keypad can be married to either the TAU built in receiver as used in TAU boom gates or any of the TAU built in receivers in motors like the TONE range. Of course you can always use the TAU stand alone receiver and use on any system you desire.

2 Channels
Battery Powered
TAUKEYPAD
- $268.00
MANUAL DOWNLOAD
EXIT BUTTON

Simple flush mount exit button with normally open and common terminals.
EXITBUTTON
- $27.00
PUSH BUTTON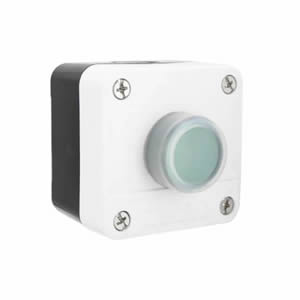 Quality waterproof outdoor pushbutton.
PUSHBUTTON
- $55.00
PUSH BUTTON WITH KEYSWITCH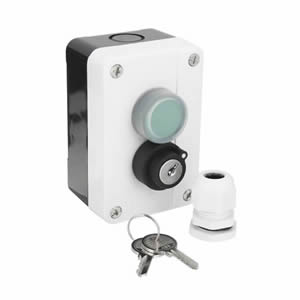 Quality waterproof outdoor pushbutton with keyswitch.
PUSHBUTTKEY
- $62.00
OTHER PAGES OF INTEREST