SLIDING GATE GUIDE ROLLERS
A full range of sliding gate hardware, including wheels, rollers, gate stops, gate receivers and sliding gate track. Many rollers come complete with brackets or you can simply manufacture your own bracket.
FOUR ROLLER BRACKET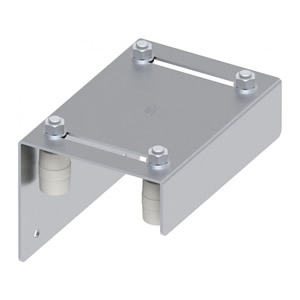 Fully adjustable roller bracket - galvanised finish with four rollers. All holes pre drilled for easy installation.
4ROLLBRACK
 - $50.90
40MM X 60MM ROLLER BRACKET
Bracket and two 60x40 sliding gate rollers. Zinc plated and adjustable.
2ROLL4060
 - $26.90
40MM X 100MM ROLLER BRACKET
Bracket and two 100x40 sliding gate rollers. Zinc plated and adjustable.>
2ROLL40100
 - $50.90
ROLLER IN ADJUSTABLE BRACKET
Nylon roller for sliding gates in adjustable galvanised bracket.
1ROLLBRACK
 - $41.60
300MM GUIDE ROLLER IN MOUNTING BRACKET
40mm x 300mm Nylon roller for sliding gates with galvanised mounting bracket.
300ROLLINBR
 - Single in mounting bracket - $87.20
SINGLE GUIDE ROLLERS - 40MM DIAMETER
Nylon roller for sliding gates with variety of lengths.
ROLLER60
 - 60mm long $7.50
ROLLER100
 - 100mm long $18.70
ROLLER150
 - 150mm long $26.50
ROLLER250
 - 250mm long $39.60
ROLLER30
 - 30mm diameter x 40mm long $4.10
INCLINEBLOCK
Nylon guide block for sliding gates. Designed primarily for difficult gates on sloped sites. Aluminium guide channel x 300mm.
INCLINEBLOCK
 - $29.50
INCLINECHAN
 - $9.90
SLIDING GATE RECEIVERS
A range of galvanised sliding gate receivers to suit any size sliding gate. Receivers have flared ends for entry and adjustable installation slots. Most can also be married to the receiver bracket for ease of installation if required.
RECGATE50
 - $20.40 Suitable for gates 50mm thick
CANRECLGT
 - $22.10 Suitable for gates 70mm thick
CANRECMED
 - $51.20 Suitable for gates 80mm thick
CANRECLGE
 - $57.40 Suitable for gates 120mm thick
GATE RECEIVER MOUNTING BRACKET
The gate receiver mounting bracket comes in very handy when you have nowhere to fix your gate receiver. Galvanised finish and can be fixed in a number of positions before attaching your gate receiver. All fixing holes are adjustable.
RECBRACKET
 - $26.20
OTHER PAGES OF INTEREST