GATE CLOSERS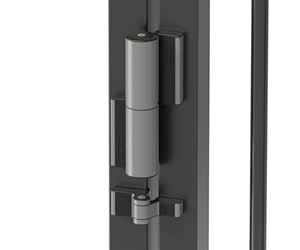 COMPACT HINGE AND HYDRAULIC GATE CLOSER IN ONE
Gates to 1.1 metre wide and 75kg.
Hydraulic, selfclosing, double bearing hinge with an 180 degree opening angle that easily closes gates up to 75 kg. Closing speed and final snap can be adjusted after installation. Fast and easy fixing with Quick-Fix. Combination with Puma (non-selfclosing) hinge. Conform with Rospa regulations.
More on the Tiger click here.
COMPACT HYDRAULIC GATE CLOSER FOR ANY GATE SITUATION
Gates to 1.1 metre wide and 75kg.
The new compact technology of the Lion has an aesthetic design and guarantees a secure closure over the full 180°. This hydraulic gate closer can be mounted on any gate installation in just seconds, by means of the innovative Quick-Fix system. A comfortable operation of the Lion gate closer is guaranteed thanks to the extremely accurate adjustment of speed and latching action. This combined with the patented temperature compensation system guarantees a constant closing speed from -30 degrees up to +70 degrees celcius.
More on the Lion click here.
POWERFUL HYDRAULIC GATE CLOSER FOR 90 AND 180 DEGREE HINGES
Gates to 1.5 metre wide and 150kg.
The Verticlose-2 gate closer is the top line in the Verticlose product range. Highly versatile and with excellent features, the powerful Verticlose-2 is the perfect gate closer for both 90 degree and 180 degree hinge situations. The integrated pretension, micro adjustment of speed and final snap and the Quick-Fix fixation guarantee a very quick and efficient installation. The aesthetic aluminum powdercoated body in combination with highly durable internal components garantuee a very long life cycle. 
More on the Verticlose click here.
POLYVALENT HYDRAULIC GATE CLOSER
Gates to 2.0 metre wide and 150kg.
The next generation of gate closers. Even easier to install and smoother functioning. The final snap can easily be adjusted after installation by turning the corresponding adjustment screw. The Samson can be posed in almost every situation thanks to the various brackets delivered with the product. Due to the patented damping system, the operation of the gate closer is unaffected by temperature changes.
More on the Samson click here.