SLIDING GATE STOPS
A full range of gate hardware, including weld on stops, bolt down stops and adjustable stops. All automatic gates should have both opening and closing gate stops.
BOLT DOWN STOP FOR AUTOMATIC GATES
Bolt down galvanised stop with rubber stopper. Ideal for swing gate opening stops or sliding gate stops. 100mm x75mm base with 120mm high.
STOPBOLT - $22.70
BOLT DOWN STOP WITH SPRING TENSION RELEASE
Galvanised bolt down stop for sliding gates with inbuilt spring to take up the end tension and allow easy release.
SPRINGSTOP - $113.90
ADJUSTABLE GATE RECEIVER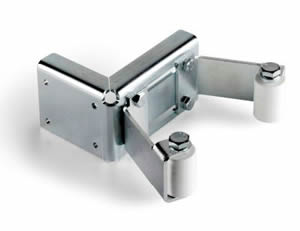 Weld on or bolt on receiver for sliding gates to suit gates from 75mm to 150mm thick. Includes side fix bracket for fixing to brick piers, walls etc. Has height and position adjustment when attaching the gate receiver.
RECADJUSTABLE - $113.20 Suitable for gates 75mm to 150mm thick
SLIDING GATE RECEIVERS
A range of galvanised sliding gate receivers to suit any size sliding gate. Receivers have flared ends for entry and adjustable installation slots. Most can also be married to the receiver bracket for ease of installation if required.
RECGATE50 - $23.50 Suitable for gates 50mm thick
CANRECLGT - $25.50 Suitable for gates 70mm thick
CANRECMED - $51.70 Suitable for gates 80mm thick
CANRECLGE - $57.10 Suitable for gates 120mm thick
GATE RECEIVER WITH OPEN TOP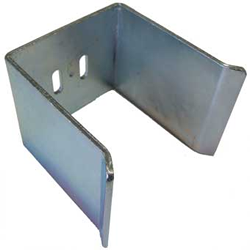 An open top version of the gate receivers. Suitable for 50mm gates.
REC50OPEN - $20.40
GATE RECEIVER MOUNTING BRACKET
The gate receiver mounting bracket comes in very handy when you have nowhere to fix your gate receiver. Galvanised finish and can be fixed in a number of positions before attaching your gate receiver. All fixing holes are adjustable.
RECBRACKET - $31.40
OTHER PAGES OF INTEREST